To contact the Marie Dressler Foundation by mail or email, see our About Us page.
Vintage Film Festival
The Foundation produces the Vintage Film Festival every year on a weekend in October. Full details here.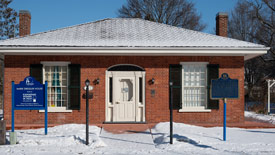 The history of the Marie Dressler House is here. It is now the home of the Interactive Canadian Women in Film Museum.
Dressler House is located at:
212 King street West (Hwy 2),
Cobourg, Ontario, Canada.

The Marie Dressler Museum has been expanded and is now called "Canadian Women in Film Museum".

Hours
Opening hours for 2023
By appointment only - see About Us page
Visit the new museum's website here for details of how to book your visit at other times

News
News about the Activities of the Marie Dressler Foundation
On February 16, 2016, Rick Miller, Chair of the Marie Dressler Foundation was interviewed on local Radio Station Northumberland 89.7 FM. He spoke about the work of the Foundation and in particular the work being done to create a new museum at Dressler House. He also talked about this year's Vintage Film Festival. You can listen below:
In preparation for the 150th anniversary of Marie's birth right here in Cobourg, the Marie Dressler Foundation is investing in the creation of a new "Marie Dressler Exhibition".
Planning is well underway. The concept and design work has been completed by students and staff at University of Toronto Museum Studies Masters Program. We have received a significant funding grant from the federal Canada150 program.
Corporate and personal donations have been generous to date. We are now over half-way to our goal of raising $100,000. to build the new Exhibition at Marie Dressler House, 212 King St. W., Cobourg.
We need your help to cross the finish line and get the Exhibition in place in 2016.
Please consider giving what you can to help Marie with her new Exhibition. Donate online here.
All donations of $20. or more will receive a CRA donation receipt.