To contact the Marie Dressler Foundation by mail or email, see our About Us page.
Vintage Film Festival
The Foundation produces the Vintage Film Festival every year on a weekend in October. Full details here.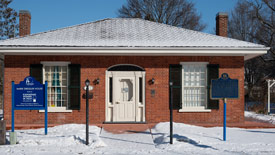 The history of the Marie Dressler House is here. It is now the home of the Interactive Canadian Women in Film Museum.
Dressler House is located at:
212 King street West (Hwy 2),
Cobourg, Ontario, Canada.

The Marie Dressler Museum has been expanded and is now called "Canadian Women in Film Museum".

Hours
Opening hours for 2023
By appointment only - see About Us page
Visit the new museum's website here for details of how to book your visit at other times

News
News about the Activities of the Marie Dressler Foundation
Opening on Saturday September 8, 2018 - Closes on November 10, 2018
Held at Art Gallery of Northumberland, West Wing, 3rd floor, Victoria Hall, Cobourg
The exhibition will actively demonstrate the connection, in both past and present, to Marie Dressler and the Town of Cobourg. Visitors will leave with an understanding of who Marie Dressler was, what she meant to Cobourg, and what she means today.
The exhibition will also highlight the importance of preserving heritage by addressing topics of oral histories, commemorative plaques, and ways in which the community shares in the development of storytelling and heritage preservation.
September 14, 2018 at 7:00 p.m. at the Concert Hall, 2nd floor, Victoria Hall, Cobourg
The Board of Directors of Marie Dressler Foundation are pleased to announce a thought-provoking evening entitled "Women and Hollywood" on September 14th at the Concert Hall, Victoria Hall, Cobourg.
"Cobourg-born Academy Award winner Marie Dressler was an early celebrity champion of opportunities for women", said Rick Miller, President & Chair, Marie Dressler Foundation. "Some ninety years later, opportunities for women is still an important issue. With this in mind, to celebrate Marie Dressler's 150th birthday, we have arranged an interesting pair of talks", added Miller.