To contact the Marie Dressler Foundation by mail or email, see our About Us page.
Vintage Film Festival
The Foundation produces the Vintage Film Festival every year on a weekend in October. Full details here.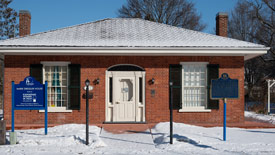 The history of the Marie Dressler House is here. It is now the home of the Interactive Canadian Women in Film Museum.
Dressler House is located at:
212 King street West (Hwy 2),
Cobourg, Ontario, Canada.

The Marie Dressler Museum has been expanded and is now called "Canadian Women in Film Museum".

Hours
Opening hours for 2023
By appointment only - see About Us page
Visit the new museum's website here for details of how to book your visit at other times
The Dressler Story
To Dream, to Dare, to Persist, to Win
by Barbara Garrick
A Biography - © 1997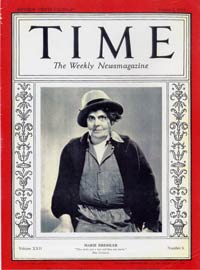 First Film Actress on the cover of Time - August 7, 1933Marie Dressler is considered one of the greatest comediennes of her generation and one of Hollywood's best loved stars. She was, at one time, the highest paid star in the movie industry, earning more than Greta Garbo or Mickey Mouse. In 1930, at sixty years of age, she won the coveted Oscar for Best Actress. In the early 1930s, Dressler was North America's top box office draw, earning $4,000 a week, and in August 1933, she was the first woman to grace the cover of Time magazine.
While these accolades tell of her phenomenal success in the movie world, they only relate to the later years of Dressler's career. A discussion of her early life, stage career, and her transition to silent and talking pictures will show that Dressler was a youngster who had a dream of being on the stage; that she dared to follow that dream, and persisted in the development of her craft, through times of success and failure. At an age when most stars are long forgotten by Hollywood producers, Dressler reached the pinnacle of her career. Dressler's life story is worth recounting, not only for her triumphs, but also for her determination to be successful in show business, and for the immeasurable persistence she demonstrated in following her dream to its fulfilment. Congratulations, Marie, you had the fortitude to be a winner!
Below are links to a five-part full biography of Marie Dressler written by Barbara Garrick. The sixth short article was written by Barbara in answer to a question addressed to this web site.