The Foundation produces the Vintage Film Festival every year on a weekend in September. Full details here. The Foundation also produces RearView Doc Fest on a weekend in April. More here.
The history of the Marie Dressler House is here. It is now the home of the Interactive Marie Dressler Museum. Dressler House is located at:
212 King street West (Hwy 2),
Cobourg, Ontario, Canada.
Hours
Because of the Covid-19 virus crisis, as a precaution the Museum will be closed until furthe rnotice. Future hours in 2020 and later will be indicated here.
If you have some information about Marie or simply want to comment on her or the content of this site, please use our "Tell Us More" form available here.
The Marie Dressler Story

Born in Cobourg, Canada - one of Hollywood's greatest stars
The Dressler Story: to Dream, to Dare, to Persist, to Win
Cobourg is the birthplace of Marie Dressler - one of the greatest comediennes of her generation and one of Hollywood's best loved stars.
This is the official site of the Marie Dressler Foundation whose mission is to make sure that Marie Dressler is remembered.
The Foundation, a registered charity, was created to raise money to restore her house when it was burnt down in 1989 (More here). Our largest activity has been the Vintage Film Festival which is held on the last weekend in October every year. But in 2018 we had additional major events to celebrate Marie's 150th birthday.
Bursaries
Another major activity of the Foundation is to award scholarships/bursaries to students planning to pursue an education in the arts field. There is a list of previous scholarship winners here. The 2019 winners were presented with their awards at Dressler House on July 6 - see the story with photos here. For more information on how to apply, go here.
Also available on this site
Details

Hits: 2663
Saturday November 9, 2019 was Marie Dressler's 151st birthday and we celebrated it. After an introduction by Town Crier Mandy Robinson, foundation chair Rick Miller presented the documentary Without Lying Down which is about women in early Hollywood who were very successful. The film focused particularly on screenwriter Frances Marion and her close friend Mary Pickford. Rick then briefly spoke about the Foundation's plans to expand the existing Marie Dressler museum to include female Canadian stars Mary Pickford and Norma Shearer. He also called on Mayor John Henderson to draw the ticket for the winner of the first of three door prizes. After the event, the good-sized audience in the Citizen's Forum in Victoria Hall were invited to enjoy the refreshments.
Below are some photos of the event. Click any photo to enlarge then scroll through all of them.
Details

Hits: 3013
Details

Hits: 3162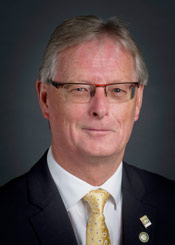 On October 7, 2019, Mayor John Henderson of the Town of Cobourg, proclaimed Saturday, November 9, 2019 as "Marie Dressler Celebration Day" in the Town of Cobourg.
Mayor Henderson (photo right) encouraged Citizens to visit Marie Dressler Museum to discover Marie's remarkable story and also invited them to attend a special Marie Dressler birthday event on that day.
Download the official Proclamation here.