To contact the Marie Dressler Foundation by mail or email, see our About Us page.
Vintage Film Festival
The Foundation produces the Vintage Film Festival every year on a weekend in October. Full details here.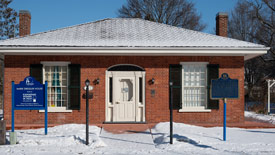 The history of the Marie Dressler House is here. It is now the home of the Interactive Canadian Women in Film Museum.
Dressler House is located at:
212 King street West (Hwy 2),
Cobourg, Ontario, Canada.

The Marie Dressler Museum has been expanded and is now called "Canadian Women in Film Museum".

Hours
Opening hours for 2023
By appointment only - see About Us page
Visit the new museum's website here for details of how to book your visit at other times

The Marie Dressler Story

Born in Cobourg, Canada - one of Hollywood's greatest stars
The Dressler Story: to Dream, to Dare, to Persist, to Win
Cobourg is the birthplace of Marie Dressler - one of the greatest comediennes of her generation and one of Hollywood's best loved stars.
This is the official site of the Marie Dressler Foundation whose mission is to make sure that Marie Dressler is remembered. The Foundation, a registered charity, was created to raise money to restore her house when it was burnt down in 1989 (More here).
Vintage FIlm Festival
Our largest activity has been the Vintage Film Festival which is held on a weekend in October every year.
Bursaries
Another major activity of the Foundation is to award scholarships/bursaries to students planning to pursue an education in the arts field. There is a list of previous scholarship winners here.
Also available on this site
For 2022, the Marie Dressler Foundation was able to allocate $1500 to bursary winners. In previous years, one or more $1000 bursaries have been awarded, based on applications reviewed by a Foundation committee. There are 5 secondary schools and this year it was decided that five, $300 bursaries be awarded, one to each of the five secondary schools in the County, students to be selected by the teachers.
Winners were announced at School graduation ceremonies.
Marie Dressler Foundation Bursaries 2022
| | |
| --- | --- |
| Name of School | Bursary Recipient |
| East Northumberland Secondary School (ENSS) | Tristian Kinzinger |
| Cobourg Collegiate Institute (CCI) | Malcolm Jack |
| Port Hope High School (PHHS) | Alyssa Brush |
| St. Mary Catholic Secondary School (SMCSS) | Georgia Callaghan |
| Campbellford District High School (CDHS) | Isabelle Haig |
Marie Dressler Foundation Board
The health and safety of our patrons and volunteers is of paramount importance to Marie Dressler Foundation.
In light of the current COVID-19 situation, we have considered the risks inherent for the community in moving ahead with RearView DocFest as planned.
Regrettably, we see no choice but to announce the cancellation of RearView DocFest.
Not only is this a disappointment for you, our patrons, but particularly disappointing for the many dedicated volunteers who have worked tirelessly over the past few months to prepare an engaging event.
Anyone who has already purchased tickets will be contacted within the next few days.
We will be monitoring the COVID-19 situation closely going forward, and assessing the possibility of rescheduling the event for later this year.
Please continue to check this website for news in the coming months.
Rick Miller
President and Chair
Marie Dressler Foundation